Claims case study: building regulations
When an insured's property is under threat of enforcement action, quick settlement of their claim is always our top priority.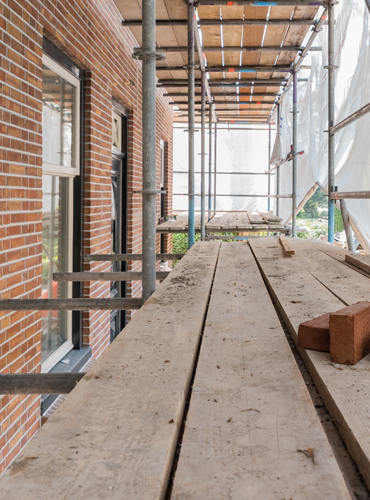 It's easy to assume that we don't receive many claims against our Building Regulations insurance, but the fact is that local authorities threaten enforcement action more often than one would think and sometimes many years after works have been completed.
When they do, it can be a daunting experience for a homeowner; they often face a list of complicated demands to bring the works up to standard, or risk having to remove the works and suffer a loss in property value as a result. That's why we work alongside our policyholders to guide them through what can often be a trying and worrying time, and do our utmost to resolve the situation as quickly as possible.
A lofty ideal
Loft conversions are a common alteration covered by our policies, and when we received an enquiry in August 2010 for a loft in Ealing that had been converted in 2005, we were happy to issue a Building Regulations policy for just £79, covering a limit of £249,000.
It wasn't until 2017, twelve years after the loft had been converted, that the Local Authority received a complaint and issued the insured with a Contravention Notice. In order to keep the loft conversion, our insured would have to bring it up to building standards, so they contacted us in March to make a claim against the policy.
The works required were substantial, including altering the staircase, so we approached a number of different contractors to inspect the property and provide quotes for the work.
Once we had approved the quotes, the remedial works were ready to proceed. Our policyholder had informed us that they preferred to coordinate the work directly, so we agreed to pay them the full amount of £40,050 to cover the builder's fees. Once the work was complete, we worked with the Local Authority to arrange an inspection and secure the final certification. It was a good result and meant the insured was able to keep both their loft conversion and maintain the value of their property!
A pain in the annex
We took a slightly different approach when we received a claim against another policy we had issued in July 2016 for a property in Wallingford. The previous owner had converted the garage into an annex the previous year and, while they had obtained planning permission, they hadn't secured Building Regulations consent.
We were happy to issue our policy for a premium of £200 for a limit of £550,000. But, less than a year later, Building Control were inspecting properties in the area and noticed that the garage had been converted without consent. They threatened to take enforcement action, and the policyholder made a claim against their policy in March 2017.
After investigation, it was discovered that considerable work would be required to bring the annex up to the necessary standards. But, because it involved electrical works, improvements to the fire safety, and improvements to the boiler and heating systems, it meant that no one contractor could do the job.
Rather than leave the policyholder to liaise with so many contractors, we took care of organising the work. Despite the significant works required, they were fully completed by December. The Local Authority provided retrospective consent in March 2018. The entire cost of the works, £22,318, was covered by our policy, leaving the policyholder free to enjoy their annex.
Time after time
The costs involved in these case studies are quite considerable, especially as our Building Regulations cover starts from just £22! But we believe that handling a claim against a policy is more than just writing a cheque. We know how distressing the threat of enforcement action can be, and that's why we work with our policyholder to guide them through the process of arranging any remedial works as quickly as possible and hopefully avoid enforcement action.