Under the spotlight
In the last edition of intouch, we highlighted our approach to rights to light, and mentioned that a Law Commission consultation paper was due at some stage this year.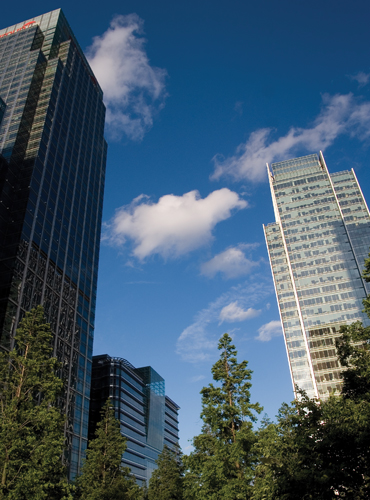 Just days after intouch was issued, the eagerly anticipated paper was published. The proposals (listed below) attracted the attention of both the legal and consumer press, and inevitably, opinions were divided.
The Commission stated that with these proposals, their aim is that the law strikes a balance between the interests of those who hold rights to light, and those who wish to develop land. It is hoped, by imposing a time limit on affected owners to commit to seeking an injunction before work commences, that the uncertainty for developers is reduced.
Our view
While these proposed changes, if implemented, would redress the balance, we think they are likely to be watered down before becoming law. The Law Commission has invited response before the consultation period ends on 16 May 2013, and with many commentators in the media already expressing the view that the proposals go further than expected in aiding developers, there will no doubt be some further adjustments made.
The idea of removing the ability for individuals to obtain prescriptive rights in the future is unlikely to be well-received by the general public. For instance, the day after the paper was published, the front page of the Telegraph reported on the proposals, describing them as an "assault on planning rules" and suggested to its readers that removing the protection would leave almost three million households "powerless to prevent large developments near their homes". A similar story was also posted on the Daily Express website, which sparked a number of negative comments from readers.
It's not just the general public who may be unhappy with the proposals. Developers too, are unlikely to be keen on the idea of issuing a voluntary 'put up or shut up' notice to potentially affected owners. They may feel that it only serves to stir things up unnecessarily; almost encouraging potential claimants to respond, and increasing the likelihood of an injunction or damages being paid. And the possibility of delay costs will also be of great concern to developers as, once they have made contact, they will be unable to proceed during the notice period. Additionally, the risk of developers not being able to trace benefiting owners remains.
It will be interesting to see what develops when the consultation period ends. From an insurance perspective, until some or all of the proposals are brought into effect, nothing has changed. In the future, we may need to adjust our approach in offering cover, but the need for insurance to protect developers if an affected party pursues a rights to light claim will still exist, come what may.
Rights to light proposals
The Law Commission's consultation paper contained the key provisional proposals outlined below:
Existing rights to light already acquired will be retained, but it will not be possible to acquire rights by prescription in the future.

A statutory test will be introduced to help Courts decide if damages should be awarded instead of an injunction. This would be a modification of the existing criteria used by the Courts to make a decision, and key to this is whether granting an injunction is judged to be 'oppressive' or 'disproportionate'.

The introduction of a voluntary statutory notice procedure, to prevent an affected owner from asserting their rights, but then sitting back and doing nothing. Following notice being served, those with a benefit of rights to light will have a period of up to eight months in which to object and negotiate. If no agreement is reached, the objector must issue proceedings.

The Lands Chamber will be able to modify or discharge existing rights to light. If this occurs, compensation would be payable based on loss in value of the affected property rather than a percentage of the profit on the development.