Mind your manors!
Manorial rights registrations make their mark.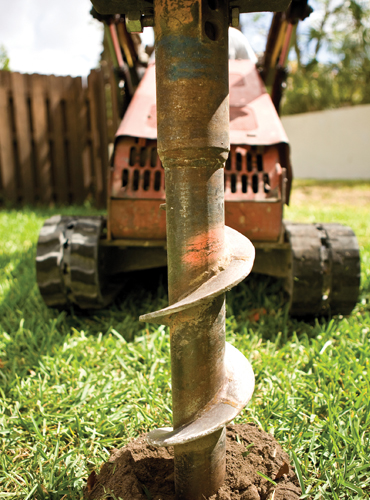 It seems the deadline for registering manorial rights had a bigger impact than previously anticipated with thousands of homeowners left fearful that ancient rights could be used to allow mining under their homes.
An Englishman's home may be his castle, but this doesn't necessarily apply to the land sitting underneath it. More than 73,000 claims to manorial rights in England and Wales have been received by the Land Registry and these have resulted in letters to homeowners across the country informing them that landowners or institutions have the rights to mineral extraction under their property.
Whole communities, who for the most part were probably oblivious to the existence of these rights, are taking up the cudgel as they wake up to the implications of the Land Registration Act.
Valuable resources
As with chancel repair liability, unregistered manorial rights lost their overriding status after October 2013, meaning that if they are not registered before a property first changes hands (following the deadline) future buyers will take the property free from these rights. The possibility that landowners could try to exercise those rights for mining has triggered widespread interest, given the potential value of these resources.
Nationwide fury
There has been no shortage of press coverage regarding manorial rights and it's fair to say, judging by the following cases, that the registration of these rights has not been well-received.
Lives on hold
Thousands of people in Anglesey have been angered by letters sent from the Land Registry on behalf of Stephen Hayes, claiming that he has rights over their properties.
Many of those affected have lobbied MPs and local representatives for a change in the law. Rhun ap Iorwerth, Welsh assembly member for Anglesey, said 4000 of his constituents have received letters about manorial rights.
"This is having a knock-on effect," he said. "We have clear evidence from numerous people who have been told they cannot get a mortgage or remortgage because the notice has been registered. People's lives are on hold while this is sorted out."
Mr Hayes, who bought the Lord Treffos title in 1992, said: "I had actually forgotten all about the title until the Land Registry told me I had to register my rights before the end of October (2013). None of this is my doing. I've received continuous abuse and I've had my life threatened."
Queen asserts rights to mine under homes
The Duchy of Lancaster has infuriated thousands of homeowners after issuing a letter reminding them that the Queen has rights to minerals beneath their homes. More than 2,500 people in Raunds and Irchester in Northamptonshire received the letter, informing them that the Royal Family has the right to dig up their land for minerals, because the Duchy is asserting its ancient right to ownership.
Mary Richardson, who has lived in her house in Raunds for 44 years, received one of the letters. She said: "Even though you think you own your own little bit of England, you only actually own the surface land. I've had to read it through quite a few times and I was a bit alarmed about it."
The move follows similar letters sent by the Duchy of Cornwall to people, telling them that it has the right to dig for metals and minerals beneath their properties.
Marquess triggers 'peasants' revolt'
Lord Salisbury has sent letters to some of the residents of Welwyn Garden City, prompting fears he may be about to dig up their gardens.
He is claiming "market and fair rights, sporting rights and rights in respect of the mines and minerals beneath the property", but has informed them that it is the mineral rights which are "most significant."
The claims have provoked an angry backlash, with resident Kim Thomas suggesting that they should "find out whether Lord Salisbury has manorial rights as well as responsibilities, e.g. giving alms to the poor, that kind of thing."
Residents have joined together in a Facebook uprising to protest against Lord Salisbury's claims, with some suggesting they should stage a protest in medieval dress with pitchforks and burning torches!
Mining/Mineral Rights indemnity
The controversy surrounding the registration of manorial rights has had a significant impact on solicitors too, as they seek to protect a greater number of homebuyers than usual with requests for a Mining/Mineral Rights indemnity policy.
Our policy provides protection against the enforcement and exercising of mining or mineral rights, rather than simply the registration of the rights by the beneficiary to the purchaser, mortgagee and any successors in title. The losses covered are:
legal costs in defending a claim in a court or tribunal
damages, compensation, costs and expenses awarded by a court or tribunal
costs in complying with any injunction awarded
reduction in market value of the property as a result of someone successfully enforcing the rights.
If there is a notice registered against an existing property's title, we can usually offer cover providing that a 'clear' coal mining/mineral report has been obtained, and that no-one has attempted to enforce rights over the property. If a notice has been registered against a development site's title, we'll need to consider a number of factors before providing cover, such as who has registered the rights, the likelihood of these rights being enforced in the future, the nature of the local area, and the results of the mining report.
For further information about our Mining/Mineral Rights indemnity policy, or to obtain a quote, simply call 01603 617617 or email enquiries@cli.co.uk.