Keeping up with knotweed
Our Japanese knotweed indemnity policy can save your clients a lot of heartache, as well as protecting them financially.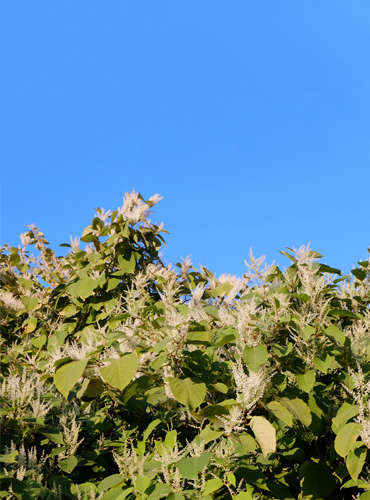 Known for spreading quickly and strong enough to break concrete, Japanese knotweed is the cause of £170m worth of home repairs every year*.
There is still no easy way to get rid of this invasive weed and, while a recent landmark case proves that knotweed can reduce the value of a property, it also illustrates how our unique indemnity policy can help buyers avoid the lengthy and costly battles caused by a knotweed infestation.
Time and money
On the face of it, the details of the case seem clear cut. Mrs Line sold the property to Mr and Mrs Smith in 2002, retaining some neighbouring land on which there was an infestation of knotweed. Mrs Line claimed to be treating the weed, but it spread onto the Smith's land.
Mrs Line's refusal to pay to remove the weed forced the Smiths to begin legal action. By the time the case came before the Court, the dispute had been ongoing for almost 15 years. The Smiths were claiming the knotweed had devalued their home by 10%, and the Court agreed, ordering Mrs Line to pay £50,000 and the costs of removing the infestation.
Peace of mind
Although the Smiths might be relieved to have finally found some resolution to their dispute with Mrs Line, the case may worry other property buyers, who might be concerned that they will face similar costs and stresses if there is any knotweed growing on land adjoining their newly purchased property.
This is where our Japanese knotweed indemnity comes into its own. Whereas the Smiths were forced to endure a lengthy legal battle to prove that Mrs Line was liable for their knotweed infestation before they could secure its removal, our claims team will act as soon as our policyholder notifies them of a claim, regardless of who is liable.
They'll immediately appoint a treatment specialist to survey the property and instruct them to begin treatment as soon as possible.
An insurance solution
Our Japanese knotweed policy is available to any property buyer; even if there are obvious signs of knotweed on neighbouring land, we can still consider cover! And, if our policyholder discovers knotweed on their property after they take ownership, they'll be covered, without delay, for:
the cost of obtaining a survey report from a knotweed treatment specialist
treatment costs to eradicate knotweed
repair and restoration costs for any damage caused by knotweed
legal defence expenses incurred to handle any claim from a third party affected by the spread of knotweed
any reduction in market value, resulting from a claim, when your client sells the property.
You can read a copy of the policy wording here, or speak to one of our expert underwriters on 01603 617617 or enquiries@cli.co.uk to find out more.
*Source: Telegraph.co.uk